My BLAQ about the Swedish ship Götheborg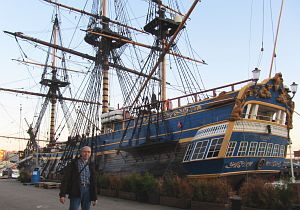 The Swedish ship Götheborg
This page is a mixture of a blog (web log) and a FAQ (frequently asked questions), that's why I named it "BLAQ".

In July 2012, I was one of the deckhands who travelled from Göteborg (Sweden) to Den Helder (Netherlands). On this page I want to give some informations about my experiences.

Also the purpose of the page is a mixture: the FAQ content may be useful for future deckhands and the blog content may be useful for the organisators to consider improvements.

For more general informations please visit the Homepage of the Swedish ship Götheborg.
July 2012, Paul Lenz
---
Conditions and expectations
The price for participating as a deckhand was 9,800 SEK (1,100 EUR), half price for experienced deckhands. It was also possible to apply for the position as photographer, videographer, or blogger. These three persons had to pay nothing because they were expected to do their extra jobs during their free time.

I applied as a deckhand because I love sailing (I have my own small sailing boat named Banana Boot) and I love old craftsmanship which I found there when I visited the ship in summer 2011. I applied for the first leg because the time of the last leg did not match to my job, and I did not like the other legs because I knew that the Channel has to be passed under engine – and that's not why I go aboard a sailing ship and pay much money.

Since videographing is one of my favorite hobbies and I have a very good camera, I applied for this position. Unfortunately, I was not selected. Nevertheless I brought my equipment with me and I promised myself to make a very good video and then perhaps I have a better chance next time. The result of my efforts is my video Sailing with Götheborg.

1,100 EUR is very much money. For the same price, I can get three weeks in Dubai or Thailand including flight, hotel, and food. This price for only one week raised high expectations about sailing and how I can spend my freetime to get the money's worth.
More Conditions – good to know!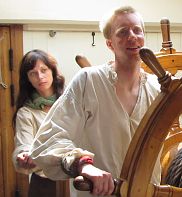 Historic clothes
All deckhands are divided into three watches. Each of them has 2 x 4 hours work and 2 x 8 hours freetime around the clock.
"starbord watch" works from 0:00 to 4:00 am + pm
"midship watch" works from 4:00 to 8:00 am + pm
"portside watch" works from 8:00 to 12:00 am + pm
During the watch, there are short coffee breaks. But be warned: freetime is not only freetime, you have also to clean the sleeping rooms, bath rooms, and toilets.

This time schedule is valid on sea. In the harbour, you are working during daytime, you can leave the ship in the evening and you can sleep at night.

Each watch has six beds, all others sleep in hammocks.

Forget your suitcase, use a foldable bag. All your possessions including the bag have to fit into
a box 20 x 30 x 70 cm
a small locker for valuable things
a small shelf section in the bath room.
a shelf for your bed sheets and your hammock
If you got a bed, you have some extra space
Nevertheless you are welcome to bring a music instrument with you, you may find a place for it somewhere else.

In the harbour, you will wear some historic clothes provided by the crew. Therefore you are requested to bring black shoes with you. What you also should know: the clothes are very simple and have no pockets. If you want to carry your mobile phone or your camera or your Swiss Army Knife with you – you have to invent a solution.
Before you go onboard
Foreigners should consider if they should get some Swedish money or not. I arrived by plane and took some money from an ATM. Then I found that in the airport bus only credit cards are accepted. The bus dropped me at the railway station of Göteborg, and I continued with a ferry to the harbour where Götheborg is located. Also in the ferry, only credit cards are accepted. So in my case, it was absolutely useless to have Swedish money.

Make absolutely sure, that you did not forget anything. The day is filled with introductions, lessons, and work. You have no time to leave the ship and buy something. In the evening you can leave the ship, but then the shops are already closed.

In Göteborg, you can use the wireless LAN of SOIC. Ask a crew member for the password.
Electricity
The ship looks like an old sailing ship – but some rooms are filled with the latest equipment. Not only modern navigation instruments or vacuum toilets – also a modern kitchen and even a desalination plant. They all need much electric energy. Therefore, a power generator is running 24 hours per day.

If you strongly believe, sailing means to hear nothing else than the noise of wind and waves, you will hate the generator. If you want to be sure that you can always charge your accus, you will love it. (As for me, both feelings struggled with eachother.) There are some outlets in the sleeping rooms, own extension cables are recommended.
Language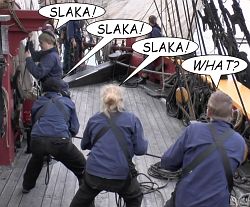 Good to know...
You will not be surprised that the the main language on the Swedish ship Götheborg is Swedish. If there are foreigners onboard, important things will be announced in English, or somebody will translate it for you into English. This may be helpful – or not.

Very soon I realized that I had no clue about the English terms, while the Swedish terms are rather close to the German terms. I learned that a yard is not only 0,914 m, it is also the horizontal beam where the sails are connected, in German "Rah", in Swedish "rå". And I would never guess what a jib is, but "klyvare" is of course "Klüver". It is also very useful to know some basic Swedish pronounciation rules. The Swedish "skot" and the German "Schot" mean the same kind of rope and have also the same pronounciation.

But be careful, there are some traps. The Swedish "babord" and the English "starbord" sound very similar, but the first word means "left" and the second word means "right". The Swedish word "hala" does not mean "hold", it means "pull". In my opinion, a small dictionary should be provided which contains the most important commands, for example "pull" or "let go".

You can hardly avoid to learn one of the most important words: "fika" means "coffee break"!

On my leg, there were three foreigners. Each of them belonged to another watch. So each of them was the only foreigner in his watch. Of course, the others spoke mostly Swedish. Of course, why should 20 persons talk in English to be polite to only one single person? I would have done the same. Therefore: if only a few foreigners are onboard, they should be together in one watch. Many people agreed with this opinion.
Organisation and information
When I arrived onboard, I received a printed schedule for the first day. I knew what happens and on which time I have lunch break and whatever. This was very comfortable. Unfortunately, the first schedule was also the only schedule. Even on the evening, nobody knew what will happen next day. And this lack of information continued until the last day. Even on the last day before we reached Den Helder, nobody was able to tell me about working times and freetime in the harbour.

On several places, printed overwiews about the deckhands were available. They showed the watches and all persons (watch leader, assistance and deckhands) with photos and names. I would have been very glad if I had a similar list about the professional crew. There was an introduction, but for some reasons I missed the first part and I forgot the other persons very soon. On the next day, I found a newspaper with the photo of the captain, so I knew at least which man of the staff members is the captain.
Watches
Every watch begins and ends with a muster. You will hear from the previous watch leader what happend, what they did and what is still left to do. The previous watch wishes the next watch "God vakt!" and the next watch replies "God vakt skall det vara!"

Specially during the night, there is not much to do if the ship sails under engines. Most likely you will do a kind of "man over board" training and prepare the rescue boat. After three days under engine you will suppose, the main purpose for those trainings is to prevent you from feeling bored and fell asleep – you are tired enough.

During every watch, four persons are selected for special tasks which take one hour each: look-out (sit on the prow and look if there is something in front of the ship which may be invisible on the radar screen), fire round (enter every room and check that there is nothing burning), second steering, and first steering.
Dress Code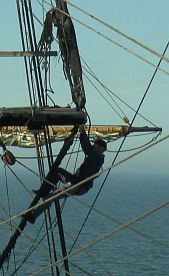 Not so easy for un-
trained office workers
Whatever you wear, it will be wrong. This is Murphy's law. Expect cold nights also in summer. Long underwear is useful if there is not much to do. And even more useful if you are look-out because this is a job without many movements. Too bad, if you wear warm clothes and you have to climb the rigging. And even worse if you do the fire round, climb down and up, and inspect very warm rooms.

By the way, for safety reasons working gloves are not allowed in the rigging.
Climbing the rigging
This is indeed the dream of all those who climbed as a child on every tree. And it is a very special thrill if you climb the rigging at night. If you like adventures, you will love it.

No reason to be afraid. You are wearing a safety harness with two snap hooks. But in the night it may be difficult to find the next safety rope for your hook because all ropes are black and look very similar. In my opinion, all safety ropes should have a bright color or even bright and dark stripes. This would decrease the climbing time at night, and in cases of emergency every second is precious.
Wood tar
As I mentioned, all ropes are black. And that's how your hands are looking after climbing the rigging or after pulling ropes. Because all ropes are treated with wood tar to make them waterproof and to give them a high friction. Even worse: if you use your camera, you can hardly avoid that the tar moves from your hands to your camera.

How to get rid of the tar? I don't understand why, but many people don't know how to clean hands from wood tar. I asked several persons until I found somebody who knew that there is a special cream in a box on deck. This cream will solve the tar, but it is very greasy. Don't use it, before you found something called "tvål" in the cleaning equipment of your sleeping room. Tvål will remove the grease.

Most likely you don't want to repeat this procedure on your camera. I found a spot remover for clothes which removes fat, oil, rosin, and tar. It contains aliphatic hydrocarbons and it works very well. Use it with toilet paper or cotton swabs.
---